On July 1, 2020, to celebrate the 99th anniversary of the founding of the Communist Party of China, we will inherit the glorious tradition of our party, not forget the original aspiration, and move forward. The company's party branch organized party members, reserve party members, and party activists to come to the Laiwu Battle Memorial Hall to carry out the theme education activities of "Reviewing the Revolutionary Years and Strengthening the Belief in Struggle".
At the Laiwu Battle Memorial Hall, by reviewing this period of history, I deeply felt the sacrifice and dedication of the older generation of revolutionary party members and the hard-won happiness of today's happy life. During the visit, the company's party branch secretary Liu Zhiming pointed out that everyone should follow the old generation of revolutionaries as an example, inherit the red gene, strengthen the revolutionary traditional education of all party members and employees of the company, enhance the sense of historical mission and corporate responsibility of party members and employees, and strengthen their beliefs. , To temper the party spirit, not forget the original intention, and forge ahead.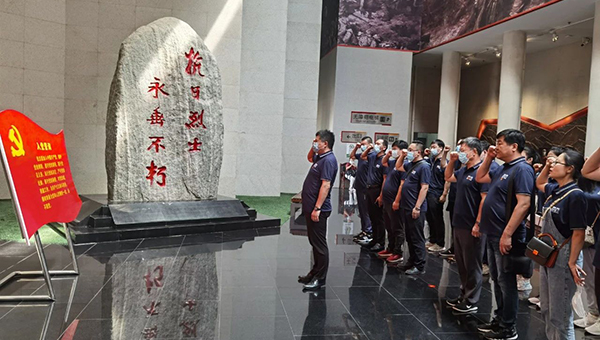 After the visit, the company's chairman and party branch secretary Liu Zhiming led everyone in the memorial hall to revisit the party oath and swear oath. Party branch members raised their right fist and once again solemnly made their solemn promise to the party in the face of the party flag.
Looking back on history, feeling surging, looking forward to the future, full of pride, facing opportunities, and a long way to go. Just like the slogan of the Laiwu Battle Memorial Hall, "The people have faith, the country has power, and the nation has hope", we Shandong Taizhan Electromechanical also continue to continue with the entrepreneurial spirit of "Perseverance and forever climbing the peak" to continue the old generation of entrepreneurs. The spirit of struggle, with a sense of crisis like walking on thin ice, a sense of urgency to wait for time, a sense of loyalty and responsibility, a sense of duty-bound mission, united will, forge ahead, transform the political advantage of the party into the development advantage of the enterprise, and work hard for the bright future of Taizhan Electromechanical struggle!